Precise, quality workmanship.
Delivered on time.
Precision Manufacturing for Medical, Aerospace, and Industrial Sectors
Since 2004, Dynamic Machining X Manufacturing (DM²) has brought our experience and expertise in engineering to the manufacturing of precision parts and assemblies. Where other companies focus on large components, our Swiss-style machining company produces the micro- to medium-sized parts needed in medical, aerospace, and industrial sectors.
Our competitive advantage:
20+ CNC machines including Swiss-style screw machines

5 axis machining and mill-turn centers

Ability to work with a variety of materials

Careful attention to quality

Scalability – Able to produce small orders or ramp up as needed

Experience – 90 years in the industry between our two founders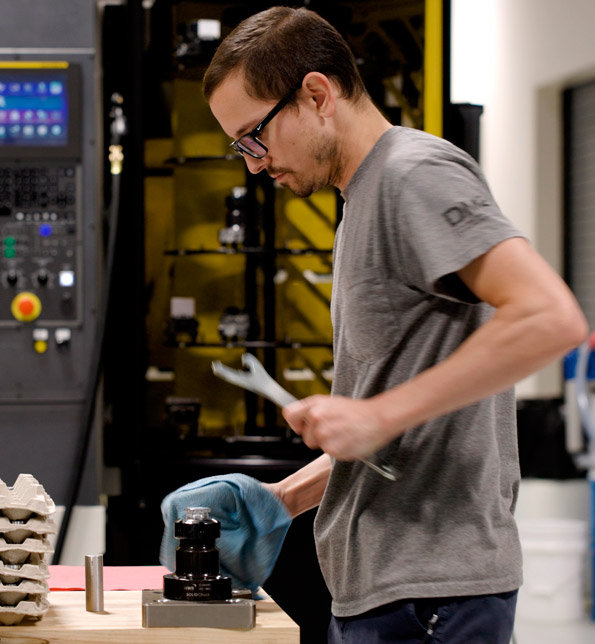 Crafting Micro-to-Medium Sized Parts
Dynamic Machining X Manufacturing, is a leading Swiss-style machining company specializing in the production of small, precision-machined parts and assemblies for diverse sectors including medical, industrial, and aerospace industries.
Medical Machine
Medical, dental, or veterinary – DM² has experience in all facets of the medical machining field and at all levels, from prototype to production.
Aerospace Machining
Precision-manufactured flight-critical micromachined parts. Our experience allows us to understand all facets of the industry, from manufacturing to the need for flexibility.
Critical Industrial Machining
Electronic components, brushless motor shafts, hydraulic system components, and more. DM²'s extensive experience creating precision components.
Innovating Precision Manufacturing
Our Tools Make the Difference
The team of engineers and technicians brings years of experience in the precision-machined parts industry to each job they do. Their expertise in three different machining styles helps provide DM² the ability to create high-quality parts for industries that count on 100% defect-free parts. 
Need additional help? Give us a call.
You can reach us by filling out the form or emailing Jake Speaks directly at jake.speaks@dmxm.com. We look forward to hearing from you. 
Do you have a project that requires precision machining?