Dynamic Machining x Manufacturing
As the name implies, Swiss screw machines originated in Switzerland and were used by high-end watchmakers who demanded precise, small components with a variety of critical features.
Our 20+ Swiss screw machines offer a range of capabilities and advantages. Swiss screw machines are distinguished by a sliding headstock that feeds bar stock through a guide bushing. This feature enables the precise, high-volume machining of many parts, especially those with small diameters. Swiss screw machines can handle metals of varying strengths and compositions.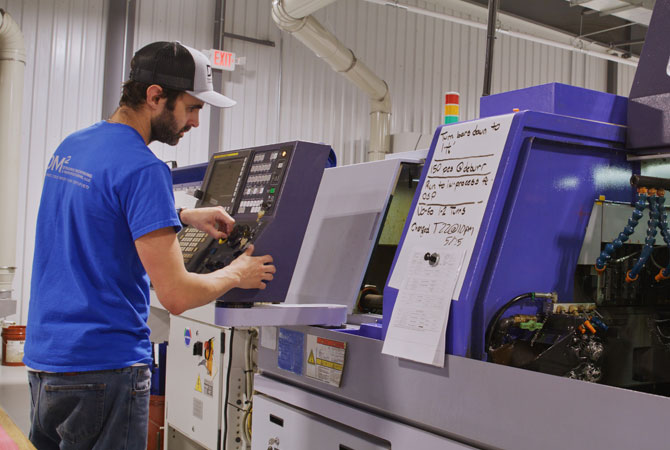 High-speed turning and Extremely precise
Swiss screw machines combine high-speed turning, and extremely precise milling and drilling, allowing most parts to be completed in one operation, rather than having to set up multiple machines to make parts, saving time and money. However, the trade-off for this precision and versatility is a limit to the size of the components they can produce. The Swiss screw machines at DM² cannot accept material larger than 1.650 inches (42 mm) in diameter.
We find it works best to use an illustration to show the capabilities of our Swiss style screw machines.
Think of a ballpoint pen. If you take it apart, we can produce each of the components from any material you choose. We hold tolerances on features of each part to within +/- one ten-thousandth of an inch (.0001″). In manufacturing, we call this "surgical" precision.
The body of the pen is the size of an average part we run through our facility, whereas the roller ball is typical of a small part we produce.
Each part has multiple features and complex attributes which require high-precision machining. Sophisticated equipment and software ensure that all attributes meet the customer's requirements. 
Swiss Screw Machine Features:
Static and rotating side – and end-mounted tools cut within millimeters of the guide bushing, effectively eliminating overhang and part deflection.

Multiple axes and driven tools enable non-turning operations, such as milling, drilling, and deburring.

Twin-spindle configurations facilitate the finishing of both ends of a part.

CNC technology permits the use of standard tool geometries to produce complex and non-round shapes.

The DM² Advantage
Most components our clients require are completed in a single step—reducing both cost and lead time.

Exceptional Precision and Quality
Exceptional precision and quality on high-volume orders and short runs. The development of processes that allow components to run "lights out" (with minimal operator presence).

Precision Tolerances
Precision tolerances up to .0002″ total part variations (on specific features) without the need for a secondary grinding step — saving our clients time and money. Rotary as well as fixed tool broaching.

Machining of Difficult Materials
Inconel, Hastalloy, Monel, Kovar, Greek Ascoloy, Platinum, Copper, Tungsten, Titanium, PEEK plastic, Delrin and Stainless Steel.
*We accept electronic files in all formats. Our programmers use state-of-the-art CAD/CAM systems to import customer CAD data and generate CNC machine tool programs for the manufacturing process. In addition, customer programs are kept on file to expedite future orders.
Have a project that requires precision machining?
Contact us by phone or email below.
Most projects can be quoted in less than 24 hours.