dynamic Machining​ x manufacturing
DM² specializes in precision machined components for medical, dental and veterinary projects.
In a field where a variety of factors are critical for devices to work properly and to ensure safe patient outcomes, our experience and commitment to quality are invaluable.
We understand the importance of the following factors: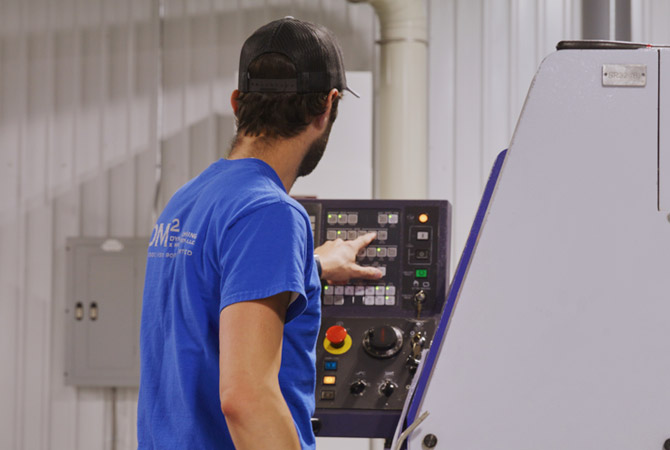 Tolerances:
Many of our medical parts go into assemblies that require tight tolerances, .0005″ (.0127 mm) total variation or less, to function. The unique advantages of Swiss-style machining along with the use of ground material allow DM² to provide tight finishes along with complex geometries—in a single setup.

Scalability:
Medical companies often have to test components out and new products tend to ramp up over time. A truly great manufacturing partner can scale with their customer to keep an uninterrupted supply from the initial run-up to full production.

Wide variety of materials:
Medical components are made from a wide variety of materials including: Various grades of stainless (such as 17-4 and 316) Titanium (typically 6AL-4V) Plastics (both PEEK and Delrin are common)

Burr control:
Excessive burrs could potentially be lost in the body or could cause unwanted tissue damage. Creative machining and robust offline options for deburring are critical for medical components.

Part finish:
Many medical parts must have to have a smooth overall finish -16 RMA or better- to fit into assemblies and to avoid unwanted rubbing. The same techniques used to hold tight tolerances can be applied to hold close finishes— and even higher finishes are possible with electropolishing.

Packaging:
Medical customers often require particular packaging so that the parts are not damaged or lost- since they are often small parts.
Have a medical or dental project that requires precision machining?
Contact us by phone or email below to get started.
Most projects can be quoted in less than 24 hours. 336-391-9556